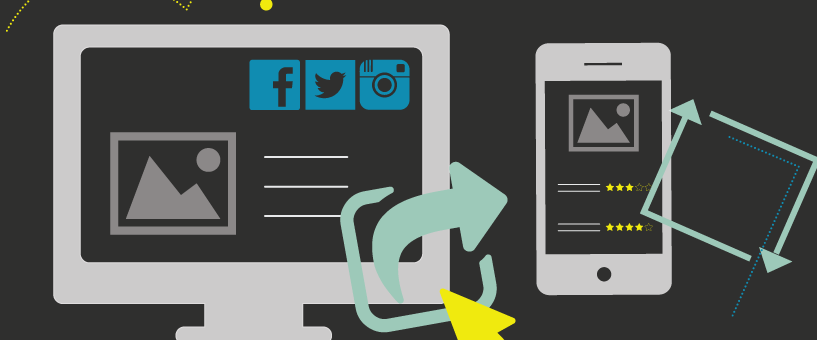 Posted by Helen Thompson
On January 21, 2016
Ben & Jerry's, content, reviews, social media, UGC, user-generated
User-generated content (UGC) has long been tipped as the next big thing in online marketing. Allowing brands to communicate and connect with their audience through mimicking the user's voice, UGC makes brands seem friendlier, more relatable and altogether more distinct. But how best to tap into the vast pool of possibilities opened up by the growth of UGC, thanks to social media expansion and growing consumer expectations? We have compiled this list of 5 ways that you can use UGC to your own marketing advantage.
1. Allow consumer reviews to make buyers feel 71% more confident in their purchase
The logic behind featuring consumer reviews on your webshop is pretty straightforward: when consumers see fellow shoppers singing a product's praises online, they are encouraged to believe that user's experience and to apply it to their own expectations. It has been repeatedly proven that up to 70% of consumers place unbiased "peer" recommendations and reviews above professionally written, brand-controlled content, while 81% of online shoppers use online reviews to make their ultimate purchase decision. This infographic from PeopleClaim makes a pretty compelling case for the importance of consumer reviews for ecommerce. Among the most striking statistics presented are:
71% of consumers agree that reviews make them feel more confident in a purchase
82% of consumers consider reviews to be 'valuable' or 'extremely valuable' assets for an ecommerce site
63% of consumers are more likely to buy from a webshop when it features consumer reviews
Consumer reviews drive 18% more customer loyalty and 25% higher consumer satisfaction
And if these facts and figures aren't compelling reason enough to integrate a customer reviews feature into your product pages, there's also the fact that customer testimonials and pictures help to erode the online-offline divide that prevents buyers from touching or feeling the product. Seeing the product in action and hearing how a product fits into everyday life helps the shopper to visualise themselves with it, further strengthening their intent to buy.
2. Feature user product photos on social media to build trust, brand sentiment and increase brand traffic by 22%
The #captureeuphoria campaign saw 15,000 hashtagged images being shared across social media, totalling 70 million impressions and a 22% increase of followers.
Another way that suppliers can leverage the emerging and undeniable power of UGC is to channel that power into social media presence. Encouraging consumers to share their experience of your products via social media with the incentive of a prize or being featured on a company page, is an easy way to get consumers to do your marketing for you.
One clear example of the power of UGC on social media is Ben & Jerry's recent #captureeuphoria campaign. Inviting users to take pictures of themselves enjoying an ice cream, the campaign was a great success (left). And the benefits didn't stop there, as Ben & Jerry's later went on to use the images in their own marketing campaigns, customising them to local markets. This increased brand sentiment, trust and loyalty in one fell swoop.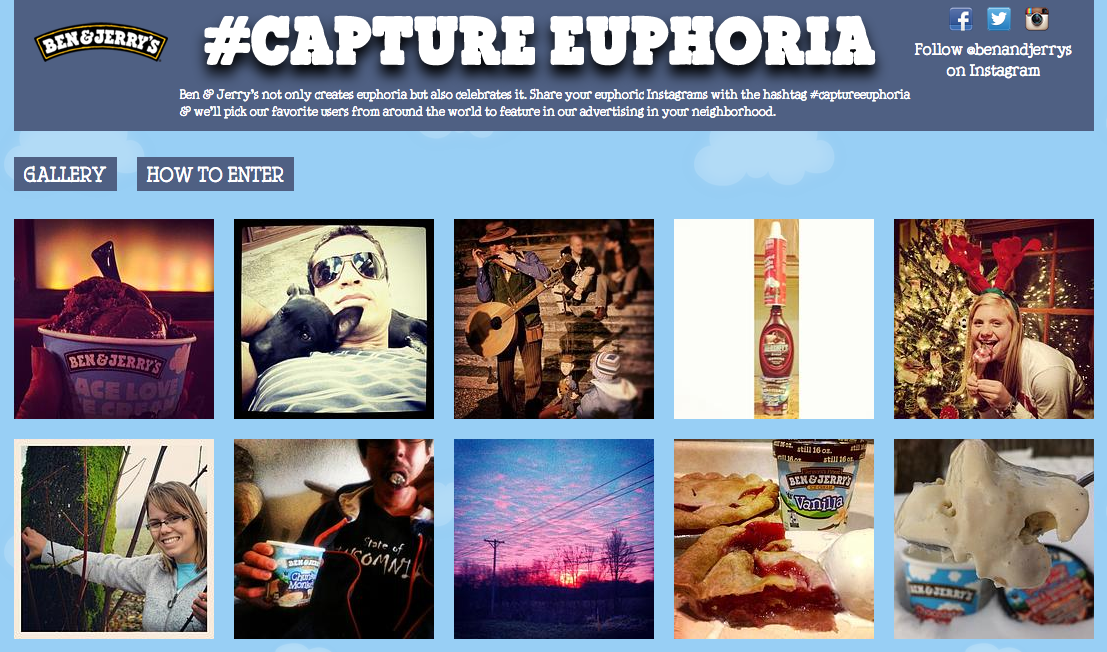 3. Install a Community Q&A for improved user-brand interaction
The next way you can use UGC to boost your ecommerce efforts is a combination of two of the hottest trends of the moment: the rise of UGC and the importance of brand-generated customised content. In-store community Q&As are the new way for brands to engage with their consumers online, with the consumer now calling the shots and dictating the conversation. These community Q&As allow new shoppers to have their questions answered by either the brand itself or by other users who have previously purchased the products. This reduces pre-purchase anxiety, lowering returns rate and boosting customer satisfaction.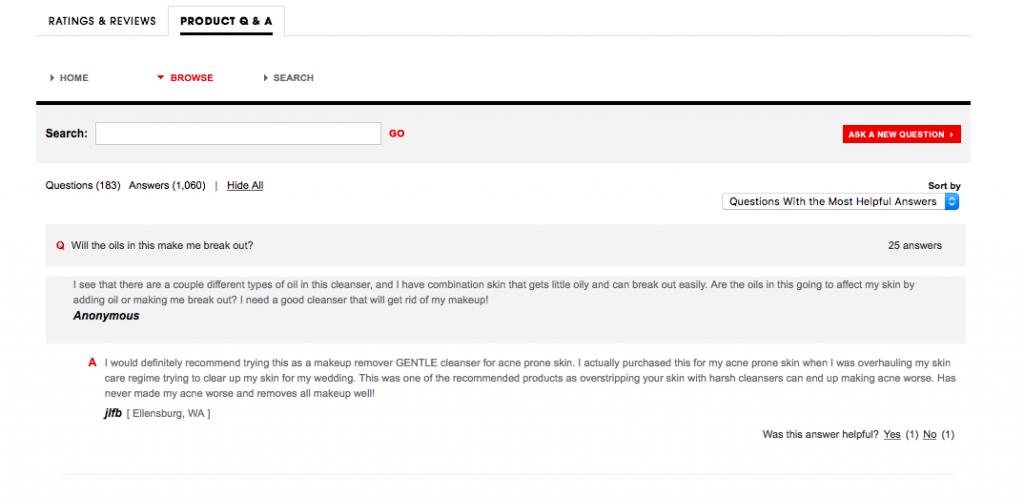 These Q&A functionalities work especially well for subjective products such as cosmetics (made for a particular type of consumer) or for high-end products that require an investment on the buyer's part. Have a look at Sephora's Q&A (image above), where potential buyers talk to product owners, or at the Thermomix Recipe Community, an online forum where owners of Thermomix products – keen chefs for the most part – can share questions, ideas and recipes. 
4. Reject traditional marketing copy for the consumer voice in your advertising for a 4x higher click-through rate
Stepping away from brand-owned platforms such as webshops and social media, UGC can further be implemented in marketing and advertising across the internet. Featuring consumer ratings and short testimonials are an easy way for a brand to build credibility and showcase the brilliance of products in a single advert. The reasons for shunning promotional and snappy copy for the words of your customer are pretty compelling, as UGC-led ads online see 4x higher click-through rates, as well as a 50% larger average order size and a 50% drop in cost-per-click.
"UGC-led ads online see 4x higher click-through rates and a 50% larger average order size."
Canadian supermarket chain Loblaws placed UGC at the very heart of the in-store experience by encouraging shoppers to leave a review online, the best of which were printed off, put onto posters and displayed proudly on shelves in the store. This encouraged shoppers to buy something they would not normally be, and also constituted a seamless convergence of online and offline content.
5. Mimic the consumer voice in your marketing communications for effective use of your marketing budget & a higher ROI
A fifth and final reason for paying attention to consumers' reviews and comments online is the fact that these testimonials are a rich set of clues as to how your target market thinks, speaks and buys. Taking note of the commonly used words and phrases of reviews, as well as understanding the key benefits and drawbacks of the product for your users, will allow you to foster more effective marketing communications.
As well as striking a chord with your digital marketing efforts, paying attention to what is being said in UGC – be it in reviews, via email or on social media – will allow you to better tailor your products and services to user expectations. If a fault is persistently pointed out to you, resolve to fix it. If a certain type of product is commonly requested, try and make it happen. If they use the same words to praise a product or continually point out a specific feature, build your marketing around it because this is clearly what matters to your consumer. The consumer voice is soon to replace that of the brand, and this shift in influence needs to be embraced in the digital age.
Check out other news from Syndy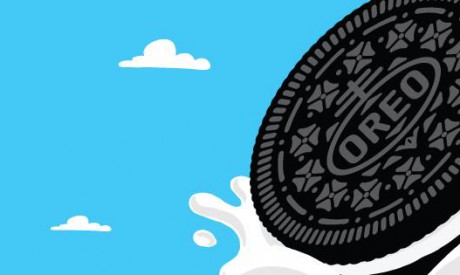 Posted by Helen Thompson
On October 28, 2015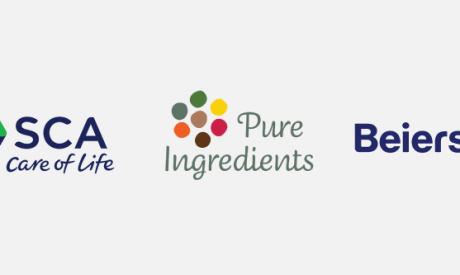 Posted by Helen Thompson
On December 21, 2015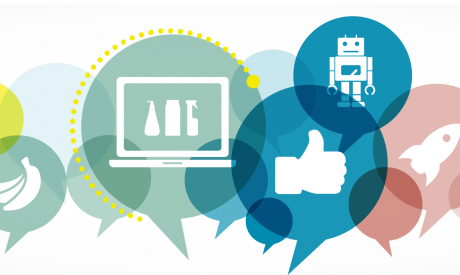 Posted by Helen Thompson
On October 1, 2015