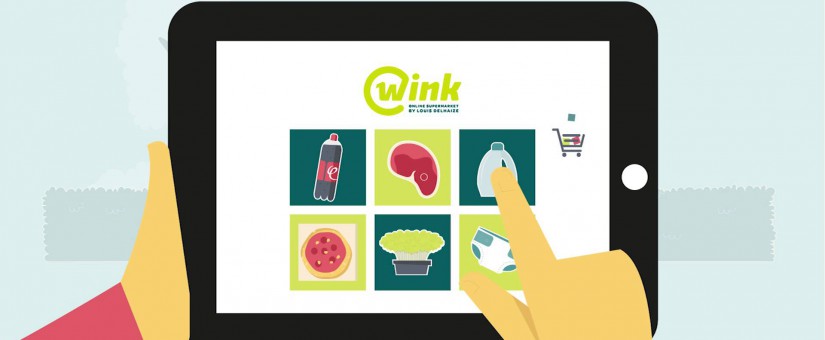 Posted by Helen Thompson
On December 27, 2015
Ahold, Albert Heijn, Belgium, Carrefours, Colruyt, Delhaize, e-commerce, egrocery, Lidl, mobile, online grocery
Earlier this year, Syndy released its report, "The State of Online Grocery in Europe and the US 2015." Analysing key market trends in leading European countries (the Netherlands, the UK, France and Germany) as well as in the US and India, our report has acted as a reference point for FMCG and grocery professionals across the world. Recently, we have been working on expanding the reach of our report, including tier-2 markets such as that found in Belgium. Belgium is an interesting case to study as we find it right on the precipice of egrocery explosion, despite a lower sales volume in recent years.
Discount supermarkets lead the way in a market controlled by price wars
The grocery landscape in Belgium is similar to that of other European countries in that it is dominated by a few key players. Leading the way is Colruyt Group with a 25% market share, their most famous chain being Colruyt discount supermarkets, which run in direct competition with leading discounters Aldi and Lidl (16% market share). Colruyt is closely followed by international retailer Delhaize Group with a 22% share of the market. Notable players making up the rest of the pack include French retailer Carrefour who accounts for 22% of the market, and wholesaler Makro (4.5%). Leading Dutch supermarket Albert Heijn, meanwhile, is swiftly making gains; in July it acquired control of Antwerp-based chain Peeters-Govers' 8 stores, with plans to reopen them under the Albert Heijn brand. AH's sudden charge into the Belgian market – along with their proposed merger with Delhaize in 2016 – could see the market be significantly disrupted in the coming years, with Colruyt's long-standing lead under threat. AH's strict price policy – in effect since 2011 – along with the prominence of discounters, could lead to static prices over the coming years.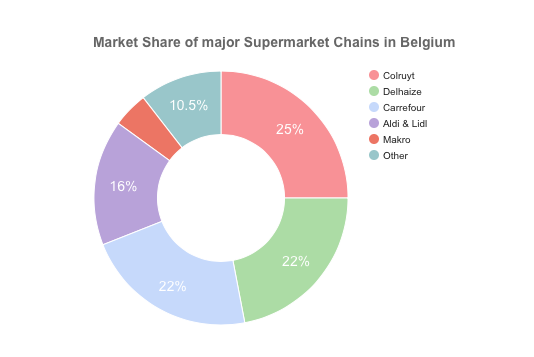 In terms of the supermarkets themselves, Belgium (along with the Netherlands) is the European country with the highest proportion of large supermarkets, implying that people prefer to buy all of their products for the week in a single trip, rather than topping up their supplies throughout the week at smaller local stores, as is the case in Britain and France.
Two conclusions that we can draw from these observations of the Belgian grocery arena:
The prevalence of discount supermarkets in Belgium (where they account for

up to 43% of the market's turnover

, compared to a 20% average across Europe) immediately indicates that a good price/quality ratio is key to success in Belgium. This is something we ought to keep in mind when considering the state of e-grocery in the country, and what online retailers can do to attract consumers.

Belgians prefer to do larger shops less frequently, rather than buying 1 or 2 items a day. This implies that they value convenience and overall time-saved when doing their grocery shopping. Again this can be applied to online shopping, as retailers must make the grocery shopping process as simple as possible.
Online Grocery's high operating costs casts doubt over its viability as an alternative to brick-and-mortar shopping
But while the Belgian grocery landscape as a whole bears some resemblance to that across the rest of Europe, it remains a tier 2 market for egrocery as it lags behind other European markets such as the UK and France.  A recent study into why egrocery has not experienced the same explosive growth in Belgium as it has elsewhere found that it is extremely difficult for an online grocery business in Belgium to be profitable, due to a low volume of demand and orders. 
Just 1% of grocery products are sold online in Belgium, just a quarter of what France and Britain are selling. Relative lack of demand and sales volume makes it difficult for retailers to cover their operating costs, which would in turn allow them to offer lower delivery rates and a more competitive product selection. This thus creates a cyclical effect where consumers are reluctant to order online due to high prices and retailers are unable to offer lower prices due to consumer reluctance.
"Only 1% of grocery sales take place online in Belgium, compared to 4.4% in the UK."
This is not to say, however, that there is no market to be seen for online shopping in Belgium. Foreign companies such as Amazon and bol.com have done well in the Belgian market, so the tendancy towards online shopping is clearly present. With Lidl announcing in September their plans for e-commerce expansion, the willingness of foreign companies to invest in the Belgian e-commerce market clearly shows there is money to be made online for grocery retailers. With the value of Belgian online grocery predicted to double to $2 billion in the next 5 years, now is the time to invest in a clear online strategy.
International Merger is set to shake up the market in Belgium and beyond
Despite these relatively paltry figures, however, fresh air is being breathed into the egrocery scene. A merger is likely to happen in summer 2016 between Delhaize Group and Ahold (the Dutch corporation which owns and operates Albert Heijn, as well as other retailers such as bol.com and Peapod in the US), which would then create the largest grocery retailer in Belgium, ahead of Colruyt.
While the priority for the two companies going into this merger seems to be consolidation of assets and market share in the US, with Ahold looking to make Peapod an even stronger rival to leaders AmazonFresh and Walmart, it is logical that over time this merger would benefit the domestic markets too, both in the Netherlands and especially in Belgium. The e-commerce expertise of Ahold – bol.com is the biggest e-commerce site in the Netherlands with a €680million turnover, while Peapod's online grocery shop reported a $550million revenue in 2014 – looks set to bring new life into the online grocery market, as they turn their attention to Belgian e-domination.
As Keith Anderson, Vice President of e-commerce insights company Profitero states: "Ahold is stronger in online grocery than Delhaize; they operate Peapod, the longest continuously operating online grocer in the US and Bol.com, a leading online retailer in the Netherlands. The combined entity could leverage some of Ahold's expertise and capability to accelerate growth in the increasingly critical online grocery channel." Watch this space to see how the merger shakes up the Belgian egrocery scene.
"The combined entity could leverage some of Ahold's expertise and capability to accelerate growth in the increasingly critical online grocery channel."
– Keith Anderson, Vice President of Profitero
Cirkle.be and bpost are looking to be the Catalysts for e-commerce Innovation
Asides from this merger of two grocery superpowers, e-commerce innovation is also coming from newer pure players. Cirkle.be is an online grocer that delivers to consumers' homes and also collects their old belongings for recycling. Created to respond to consumer demand for organic food and home delivery in Brussels, Cirkle offers home delivery within a one-hour timeslot for €3 (free for recurring orders), with products packed that same day for freshness. Users can select the frequency with which they would like to receive their products, meaning they can arrange for their stock essentials to be automatically ordered and delivered every week or month, without them having to do it themselves. This saves them a lot of time, worry and effort; benefits much appreciated by Belgian consumers.
Belgian mail service bpost has recently entered the egrocery arena with its new service combo. Similar to their Dutch counterpart PostNL's work with Vershuys.com, bpost have created a service whereby consumers place orders with their preferred local merchants and have them delivered to their homes. With a successful pilot in Sint-Niklaas and eastern Walloon Brabant under its belt, combo has shown itself to have the expertise, the staff and the logistical structures in place to be able to run a profitable grocery home delivery business on a larger scale. Combo stands out from its Belgian online grocery competitors with its ability to offer products from local merchants, leading supermarkets, department stores and online pure players, all within a single platform. For added user convenience, deliveries take place on weekday evenings when people are home from work, and next day delivery is an option for all orders placed before midnight.
These two companies both have Belgian consumers' demands and lifestyles at the very heart of their strategy. Catering to a nation that prefers to shop for all essentials at once – either with Cirkle's repeat order feature or bpost's multi-retailer platform – means that consumers are more likely to warm to the idea of ordering their groceries online and to see the added benefits it brings. The expansion of these two services into more geographical areas in recent months, too, is encouraging.
Belgian players starting to invest actively in e-commerce despite negative ROI
As we can see from the examples above, investment is slowly but surely starting to be made in the online channel. Major projects and new corporate structures are being considered by both major retailers and new startups and pure players in Belgium, despite the perceived risks. As explained by Professor Claude Boffa at Solvay Brussels School, being seen to pass up on the opportunities of e-commerce is even more damaging to retailer reputation than the associated risks: "In a time when everything and everyone is embracing the internet, you can't afford to stay behind and leave your customers hanging if you are one of the bigger players. Some also hope this might increase their market share in a saturated market."
"In a time when everything and everyone is embracing the internet, retailers can't afford to stay behind and leave their customers hanging."
– Professor Claude Boffa
In a market where there is yet to be a clear frontrunner, the crown of Belgian grocery e-commerce could be a deal-breaker in terms of determining market share. Great product content, therefore, is of the utmost importance in both winning over consumers who are wary of online shopping and for retailers looking to establish a leading online presence. Other potential online strategies for grocery players looking to enter Belgian e-commerce could be to offer a niche selection of products that are hard to find in store, to offer an extensive selection of a type of product alongside informative content that educates buyers and entertains enthusiasts, and to find a way to offer low home delivery costs. With a 50% increase in online grocery orders following the raised terror alert in Belgium, and with retailers slowly moving towards establishing an omnichannel presence, perhaps this is only the beginning of Belgium's love affair with egrocery.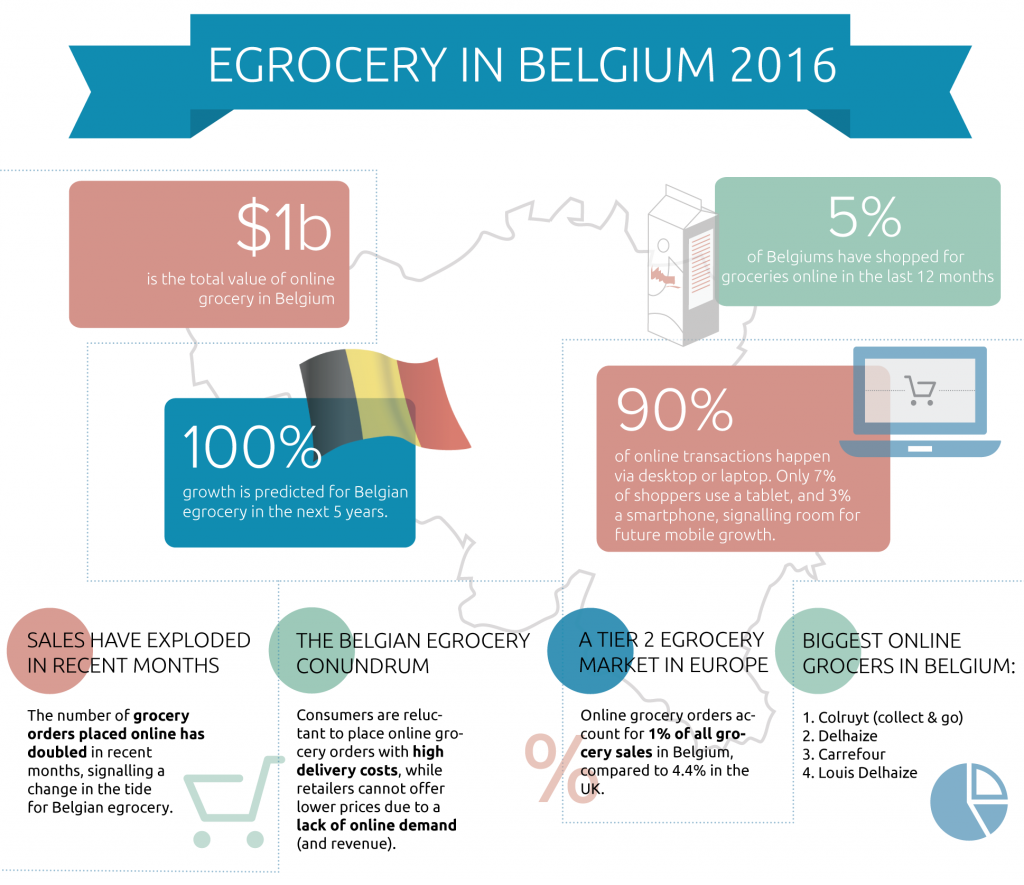 Check out other news from Syndy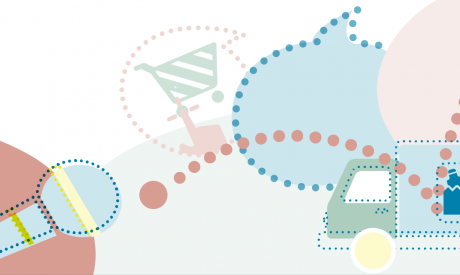 Posted by Pierre Dupuis-Blankevoort
On July 27, 2015