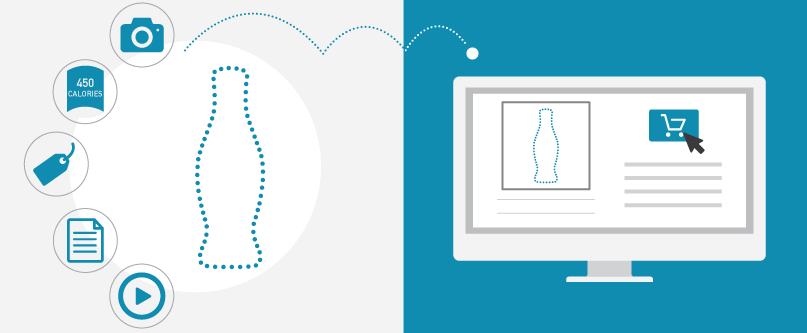 Posted by Helen Thompson
On February 26, 2016
e-commerce, e-commerce content supply chain, Product Content, product content distribution
Most Suppliers know that shipping products to the shelf of Retailers is a logistical nightmare. Each Retailer needs different quantities, have distribution hubs at different locations, use different software solutions to run their operations and then Suppliers have to manage spillages, damages and returns. Getting products onto the Digital shelf should, in theory, be so much easier right? Wrong.
In the rush to launch e-commerce capabilities Suppliers overlooked the needs of Retailers with regard to accessing consistent, impactful, quality e-commerce friendly content. Retailers had to take things into their own hands creating product content at huge expense. The only option a retailer had was to receive product samples, take photographs, input the labelling data, create descriptions and product messages themselves. This involved large internal teams or costly outsourcing arrangements and led to a slow and non-scalable process. Customer experiences across the web and mobile were becoming increasingly dynamic, personalized and fast-paced whereas the product content displayed within online stores was often out of date, inconsistent or had huge gaps in data. As each Retailer had to devise their own process they placed unique demands on suppliers forcing them to conform to their formats for online data. The interface between Suppliers and Retailers became a one to one network.
A New Era of Facing the Challenges Together – Suppliers and Retailers
E-commerce is experiencing a period of explosive growth and of transformational change with Suppliers and Retailers seeking to collaborate to unlock the potential of winning shoppers on the digital shelf. The emerging Digital Content Supply Chain has many parallels with the physical supply chain. The beginning where content creation is analogous to product manufacturing, the middle with the management and storage of digital content replacing warehousing and the end with digital publishing replacing shipping and logistics.
E-commerce Content Production: Suppliers Take the Lead
As Suppliers recognize the increasing importance of effective e-commerce content they are taking the lead in managing the process of creating a range of product imagery, pack shots, descriptive data as well as physical data that Retailers need to power their online stores. Where before Retailers created that content themselves they can now look to tap into the libraries of content the Suppliers create as they share the burden and rewards of excelling online. Centralized production of these assets, either by their core Design Agency or a de-coupled specialist production house ensures proven high-quality content produced once rather than duplication and costly processes within the Retailer. With the rise of product personalization, seasonal promotions, sponsorships, and occasion based bundles the number of product variants and pack-shots expand rapidly. Only a responsive centralized process can keep up with the high-paced demands to get the right product content in the online store quickly.
Content Management and Storage: How to Merge Digital Content that Streams from your PIM and DAM Systems?
As with the physical supply chain the E-commerce Content Supply Chain relies on a well-organized, connected and scalable warehouse of the digital product content. Digital Asset Management (DAM) Systems; the mainstay of Marketing Photo-libraries and Packaging Artwork processes, have a new dynamic and relevant role to play in storing this ever expanding, rapidly changing, Digital Product Content. Product Information Management (PIM) systems that host all the physical product data for the manufacturing processes play a key role in the e-commerce content realm. The challenge has always been how to merge the Digital Content that streams from both a PIM and a DAM. Each have subtle and distinct capabilities and some brands have had to accept compromise as they use a PIM as a DAM or vice-versa. Some visionary suppliers have a hybrid PIM and DAM capabilities within a single platform making the warehousing of the Digital Content Supply Chain as streamlined as possible.

Content Distribution: the Key Success Factor of the E-commerce Content Supply Chain 
No one would set up manufacturing and warehousing without an effective distribution capability. However, the nuances of distributing product content to retailers on a global basis are often overlooked as it encompasses an understanding of retailers' needs, openness and flexibility. Each Retailer has their own unique requirements in terms of product data, images and formats. They update their online stores on different cycles and launch new products and promotions with slightly different processes. Some Suppliers distribute a fixed package of content to everyone, however the retailer then needs to fill in the gaps and the same cost challenges become apparent as in the old model when retailers created everything. The success of the E-commerce Content Supply chain is predicated by a Content Distribution Platform which can draw the content from the DAM/PIM, allow local teams to customize (enrich) it for their needs and for Retailers to pick their unique digital assortment of products. Not only should retailers be able to select the products they need but also have the data distributed to them customized to reflect their specific format so there can be a frictionless flow of content straight into their online stores.
         The e-commerce content supply chain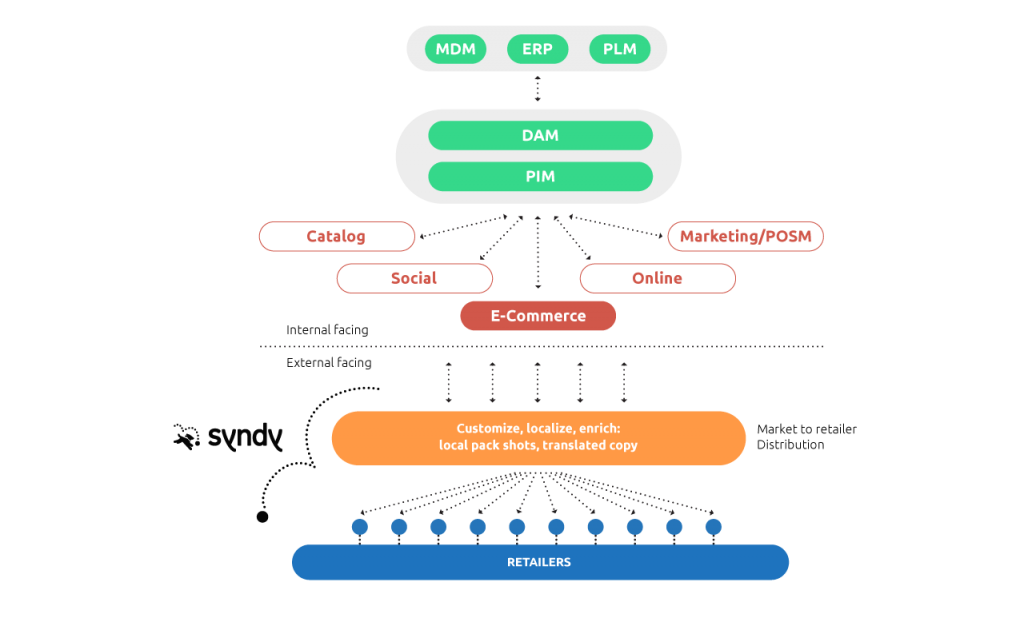 Source: Syndy
The Importance of Rich, Dynamic and Timely Product Content
The product content presented in on-line stores will only become more detailed over time, will include more rich media (photos, 360o products graphics, videos) and will become more dynamic. Dynamic content will be the trend that will finally break the old models. Marketers can no longer be satisfied that they have a full description and a compelling product shot (although they are foundational). E-commerce marketers will need to be able to manage rapid product targeting, regularly updating content based on events, seasonality, the weather, dietary trends, sponsorship, the list goes on. The online e-commerce marketer will have to change their mindset away from stewardship of the product presentation to one of an on-line trader, constantly tweaking the content of their product portfolio to reflect ever-changing inputs to maximise sales.
E-commerce content exchange between Suppliers and Retailers: past vs future

Source: Syndy
The question for the future is not: "Have you established an effective content supply chain to deliver your Digital Product Content to each retailer?", but, "Can you deliver, update, refine and retarget every product every day for every retailer?" The interface between Suppliers and Retailers has fundamentally moved from a rigid one-to-one model to a true open and flexible many-to-many network with Retailers multi-sourcing content from a range of trusted sources.
Syndy is a product content distribution platform for Suppliers and Retailers. Our break-through platform technology allows global Suppliers to deliver optimised product content to local online Retailers across the globe.
Check out our most popular blog posts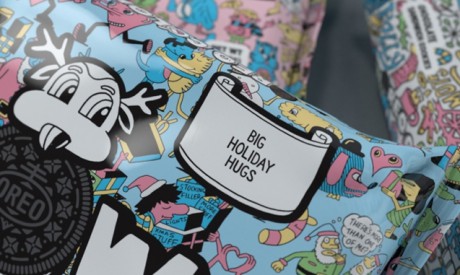 Posted by Pierre Dupuis-Blankevoort
On February 5, 2016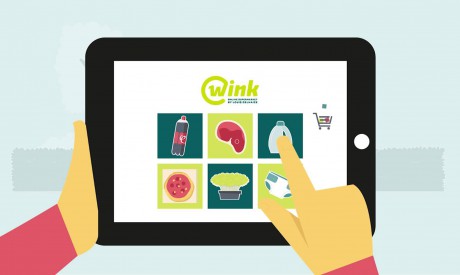 Posted by Helen Thompson
On December 27, 2015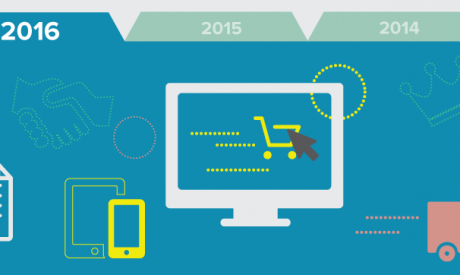 Posted by Helen Thompson
On January 6, 2016