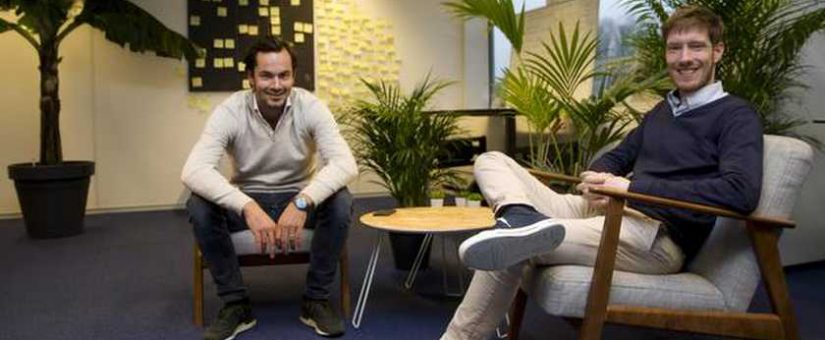 Posted by Pierre Dupuis-Blankevoort
On April 16, 2018
The following is a translation from an original article published in Dutch in the newspaper "De Telegraaf" on 16-11-2017 by Sophie Zimmerman. 
Link to the original article
Control over Content
The Dutch e-commerce platform Syndy helps brands with the sharing of their digital product information to retailers worldwide. "We make this process automatic, enabling our clients to gain more control over their online content", says Pieter van Herpen (CEO) who founded the company with Rogier Pennink (CTO).
"People buy things online more and more often", says van Herpen, "But when buying online it is not a real product that you buy, but rather an image with corresponding content. How this is represented adequately online is thus of paramount importance for a brand."
The digitalisation of content can be a tough task for companies. "Albert Heijn (dutch supermarket), until recently, had put to work a gigantic content-team that would plug in all the data manually", says van Herpen. Through Syndy, brands can upload their product information easily and share them with all chosen retailers. The system shapes the content automatically according to the wishes and specifications of each retailer
"The manner in which products are offered and shown online is ever-changing", explains Pennink. "How a bottle of milk will be shown online can be changed and adapted ten times a year. Retailers adjust their product range in function of consumer demand, as sometimes they will suddenly want four pictures rather than two in their product information for example."
Syndy has approximatively twenty clients to this day. "Our aim is exclusively set on the big clubs", says van Herpen. "Chains where eighty percent of the activity will be on the brand side and twenty percent on the retailer aspects". Companies such as FrieslandCampina, Philips Lighting, Coop and Unilever are already vested clients of Syndy.
The international activities of these clients are also carrying Syndy beyond their borders on a path towards global expansion. "Our clients are pulling us abroad", says van Herpen laughingly. "We are in fact very opportunistic. We wait until our clients tell us: join us abroad."
The roll-out process to new markets is very easy for Syndy. "We had an eye on that since the start. We knew that the system we were building had to be capable of adapting itself to a global scale", says Pennink, who is the architect behind the building of the platform. "Our platform is easily scalable because of these choices we made at the start. We have recently set foot in the Chinese market and were up and running in less than a month."
However, the fact that the roll-out process is so easy does not mean that the company chases international markets unthinkingly. "The expansion to China was not just a matter of transposing to Chinese signs", says Pennink. "It is of course a very different market with a very different demand. For example, the use of images is of much greater importance than the use of text. That has to do with the fact that more than seventy percent of online sales in China are already taking place on a mobile device."
Aside from China, Syndy is active in five European lands and in North-America. The rest of the world is certainly on the map, the founders admit. "But not too fast", says van Herpen. "We pick our battles. Our most important focus lies with the clients in our current markets."
Article translated from Dutch to English by Pierre Dupuis-Blankevoort, Syndy.