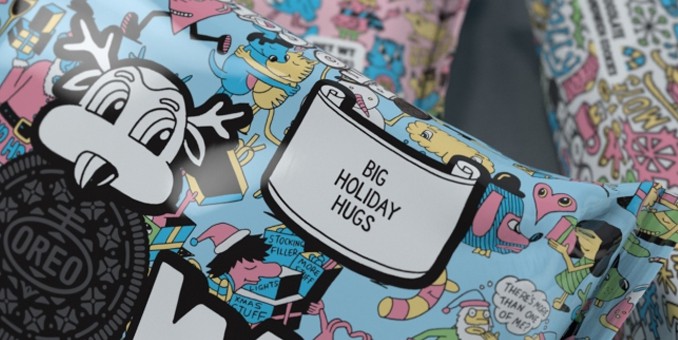 Posted by Pierre Dupuis-Blankevoort
On February 5, 2016
Most industry experts agree that e-commerce will be the main growth driver for CPG sales in the upcoming future. In fact, there is more than one good reason supporting this claim:
Online CPG sales have been growing at a rate of approximately 15% annually since 2010, far outpacing brick and mortar stores.
25% of internet users worldwide have already tried buying CPG products online and 55% are planning to.
CPG e-commerce will reach $130 billion globally by the end of 2025; more than twice today's market size.
Yet, while these numbers show a huge opportunity for CPG companies, most of them are still reluctant to shift their resources from the tried-and-true brick and mortar channel. The question is, why? Well, some are hesitant to spend their marketing budgets on risky and unproven e-commerce initiatives; while others simply do not have the in-house expertise and proper infrastructures to succeed in this field.
However, with more and more consumers doing their shopping online, a lot of these companies risk stagnation, loss of share and even shrinking sales in the long run. E-commerce can become an important strategic pillar for a lot of CPG companies if only enough attention and resources are given to it. Want some proof? Check out this list of CPG companies that are successfully leveraging the e-commerce channel:
1) Mondelez International
After announcing its goal to hit the $1 billion mark in e-commerce by the end of 2020 (from $100 million today), Mondelez has surely put itself on the CPG e-commerce landscape for the time being. Here are a couple of e-commerce initiatives they have been ramping up recently:
Leveraging partnerships and creating new conversion touch points online
One way Mondelez expect to reach their e-commerce goals is by expanding their shoppable ads with "buy now" buttons across media platforms including: product pages, social media, video advertisements, CRM campaigns and other digital media touch points. It works very simply: ads are geo-targeted to retailers' websites with stores close to the consumer. So if a social media ad is clicked in New York it might redirect the consumer to Peapod, while a video ad viewed in Chicago could redirect the consumer to Walmart.com. In both examples, consumers can then purchase the snack and have it delivered from a nearby store. The company is already using this model in 25 markets, linking 130 retailers. The snack giant is not doing it all though. Mondelez (parent of brands including Oreo, Cadbury and Trident) has partnered with ChannelSight to utilize their Buy Flow technology for the initiative. 
Selling experience and added value direct to consumers
Mondelez has recently tried venturing into the e-commerce field themselves. Just before the holiday season (2015), Mondelez tried their first direct-to-consumer initiative that allowed their fans to customize the packaging of OREO cookies on shop.oreo.com and get them delivered to their homes. OREO fans were provided with two designs to choose from, one each from graphic artists Jeremyville and Timothy Goodman. Users could then adjust the sizes of the images and choose from multiple colors to further personalize the packaging. The less tech-savvy fans were offered a black-and-white package that came with markers to color the package by hand. The OREO Colorfilled initiative proved that consumers are ready to pay premium (the customized OREO pack was priced at $10 – with $5 shipping in the US, whereas in-store a standard pack stood at only $2.99) to be able to personalize product packagings themselves. This has already raised interest from Mondelez teams globally.
"The conversion rates for the OREO Colorfilled site were two to three times the online industry standard"
Offering a range of products suited to online shoppers
General Mills seems to have built a portfolio of products that consumers are willing to buy online. The company's gluten-free products are riding the health and wellness wave. The nutrition- minded grocery shoppers are less and less interested in snacks sold on brick and mortar stores, and seek out healthy replacements online. These products do especially well on web-sites like Amazon that are geared for single item searches.
In addition to this, on seeing the growing popularity of its products among online shoppers, General Mills made one of its healthy brands, LARABAR, available on Amazon Dash. And it seems to be showing results. According to Profitero's Fast Movers Data, LARABAR was among the TOP 5 best selling snack products on Amazon.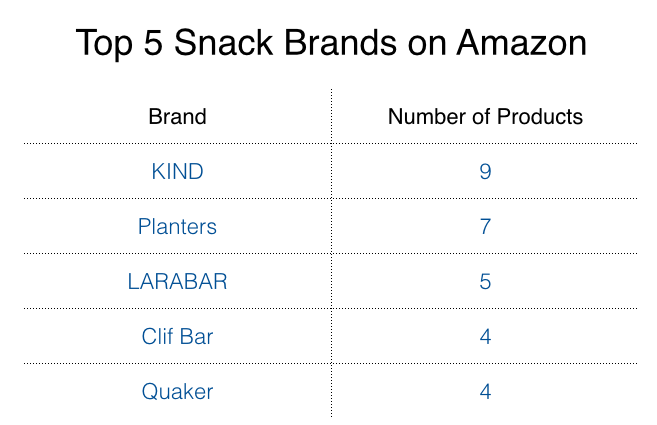 Source: Profitero's Amazon FastMovers data
In addition, General Mills have been successful in partnering with full-range online grocery retailers. According to Ken Powell, CEO of General Mills, some of their most popular product categories sold online in the U.K. and France are approaching the 10% mark of all sales. He expects that similar results will be achieved  in the U.S. in the near future.
3) AB InBev
Most of us will admit that buying beverages in supermarkets is not the most convenient thing to do. These products usually take a lot of space and are heavy to carry. AB InBev have been following this trend for a while and therefore, view e-commerce as a vehicle to market and sell their products.
Following the behavioral and consumption habits of millennials
After seeing Bud Light lose its market share for a couple of years in a row, AB InBev launched an e-commerce app called Bud Light Button. The app makes it possible for consumers in Washington D.C. to order 24-pack cans of Bud Light for $19.99 or 12-pack cans for $10.99 and get them delivered from a partnering retailer's store within an hour. The app was created by AB InBev's "Beer Garage", and makes sure that the young consumer base used to ordering products via mobile can do the same for beer. "Beer Garage" previously pushed AB InBev into e-commerce with the Tweet-a-Beer project, allowing spectators to order beer deliveries during Dolphins games with a tweet.
"AB InBev is committed to offering its consumers the right experience based on their behavioural and consumption habits – and launching an e-commerce platform like The Bud Light Button is no different. Based on our recent success, we expect to continue to redefine the category with products and experiences that integrate seamlessly with their lives".
Stephen Clements, executive creative director of AKQA (company that developed the Bud Light Button app for AB InBev)
Check out other news from Syndy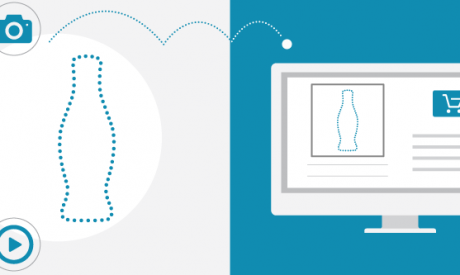 Posted by Helen Thompson
On February 26, 2016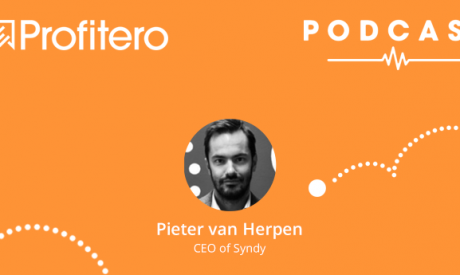 Posted by Pierre Dupuis-Blankevoort
On May 27, 2016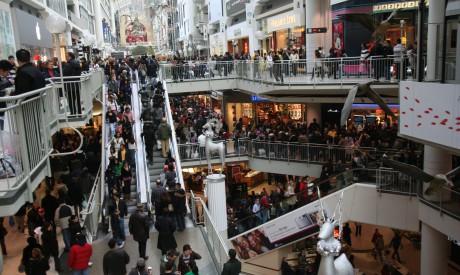 Posted by Helen Thompson
On December 2, 2015